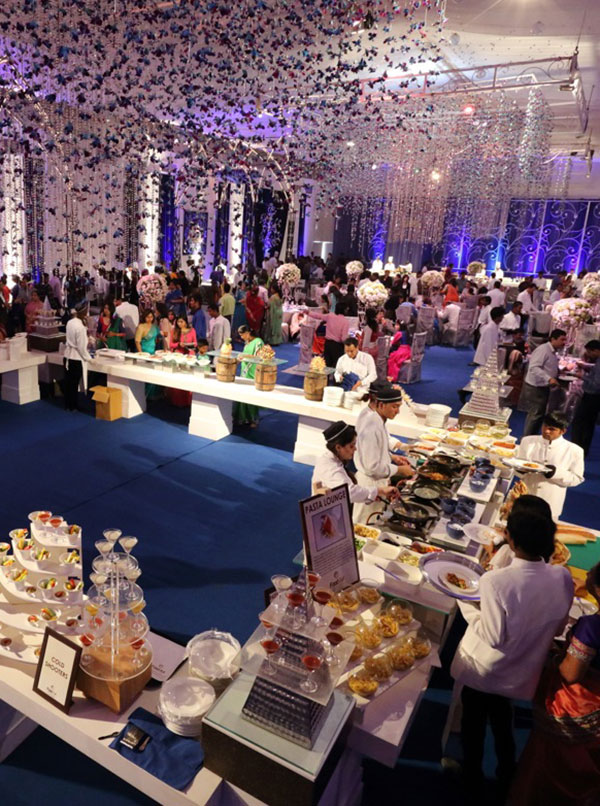 Mr. Naresh Shah's Daughter's Reception Lunch at Surat
Enn Enn Group
Mr. Naresh and his family are real food enthusiasts, their invitees covered all spectrum of people, so the proposed menu had a big switch of cuisines as the gentry ranged from business executives, typical Gujaratis to modern and health conscious youngsters. The menu was crafted and strategized according to the Jain taste, without onion & garlic and non root vegetables. The spread was lavish and detailed, with a greater inclination towards the continental food. The multi-cuisine menu had the WOW factors that was highly appreciated and praised by the guests.
All the tablescapes had beautifully designed menu booklets and colored napkins with the wedding logo, to give personalised attention to every attendee.
The family was extremely delighted to see the concept of Ala carte at the grand sajjan goth, i.e. all the items on the menu were prepared and served hot exclusively to the guests on order. This instilled a feeling of a fine dining restaurant rather than a traditional sajjan goth family lunch.
Mr. Juneja's Reception Dinner
Mankind Pharmaceutical
Mr. Juneja's reception was a forum where we got a chance to flaunt our next generation innovation and creativity in food style and art.
It's been over a decade that we have been serving them our flavoursome food with fervent hospitality.
This time, we served popular dishes from the Korean and the Modern Indian Cuisine which were highly appreciated by the Mankind family. We wooed the guests by offering two pop up restaurants, "Italiana" & "Oriental Kitchen". We presented a scrumptious four course menu with a fine dining setup for the restaurants where the attendees relished the food while "Our Chefs in Action" created a visual delight in the Live Kitchen, where the food was exclusively crafted as per the orders.
Other major attractions included the live preparation of succulent wontons and starters service in accessorized trays by our foreigner stewards.The youngsters went gaga over the fusion desserts such as Gulab Jamun cheesecake, Gajar Halwa chocolate balls and assorted fruit ghevar.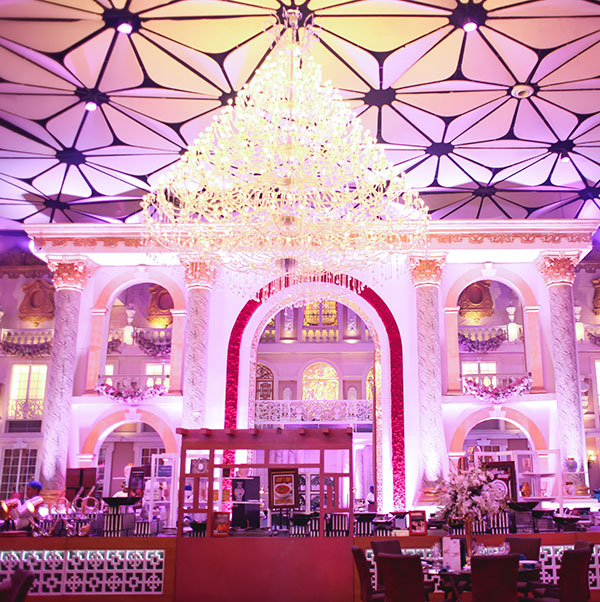 Mr. Dua's Son's Reception
Relaxo Footwear
A show that dazzled every single soul was the opulent wedding reception of Mr. Dua's son. The event was a beautiful amalgamation of grandeur flair and glory that witnessed big shots of the society. The Relaxo family and their guests were taken on a culinary voyage around the globe with our exclusive international cuisines in a fine dining set up. The immaculate service and gracious hospitality by our foreigner butlers exceeded the expectations of the guests and won many hearts.
We curated a tailor made dessert bar that was designed and handcrafted by our executive pastry chefs. The symphony of exquisite taste, texture and aroma had transported the guests to an exotic oasis like never before. The dessert game was topped by the scintillating chocolate ball on fire and went viral among the attendees.